"Yesterday is Now - the War, 55 Years after Japan's Surrender"
(video, 96 minutes; February, 2002
Email: mailbox@movingimages.ca)
Produced and directed by Celine Rumalean (Vancouver, BC, Canada)
Soundtrack by Evan Parker, David Toop, Sarah Peebles, Nilan Perera, and Jin Hi Kim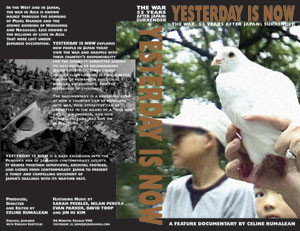 "Yesterday is Now" reveals the divisions in today's Japanese society as it struggles with the question of how to consider the war and Japan's responsibility for the crimes it committed during its occupation of neighbouring Asian countries between 1895-1945. These crimes include sexual slavery, slave labour, the use of humans in biological warfare experiments, and the massacres of civilians. Frank and probing interviews with a diverse collection of individuals - families of the Japanese war dead, former soldier, A-bomb survivor, teacher, labour unionist, journalist, artists, students, politicians and right wing nationalists - together with archival footage and images from Japan's modern cityscapes make up a riveting chronicle of the country's dealings with the unfinished business of its wartime past. Despite historic differences, this exploration of the past resonates eerily with the present: this is a revealing look at how a country can be mobilized into war, how atrocities can be committed in the name of a "just war," and how consequences of war live on in peacetime.
(Music: Evan Parker, soprano and alto saxophones; David Toop, steel pedal guitar, objects, electronics; Sarah Peebles-computer, shô/mouth-organ; Nilan Perera-altered electric guitar; Jin Hi Kim-komungo and electric komungo.)
Distributed by Moving Images Distribution
402 West Pender Street, Suite 606,
Vancouver, BC Canada V6B 1T6
Tel 604 684.3014
Fax 604 684.7165
Information also at: yesterday_is_now@eudoramail.com
See PDF files for a description of Yesterday:
English Japanese

Home Page | Artist Biography | Recordings & Publications | Online Audio/Video
Projects & Performances | Reviews | Archives 2001-2011 | The Audible Woman

Contact the artist at sarahpeebles @ gmail.com