Gathering

spool FIELD 5 SPF305 Double CD
Smash and Teeny
with John Butcher
A double CD of music and video
Available at Squidco, CD Baby Music Store & Canadian Music Centre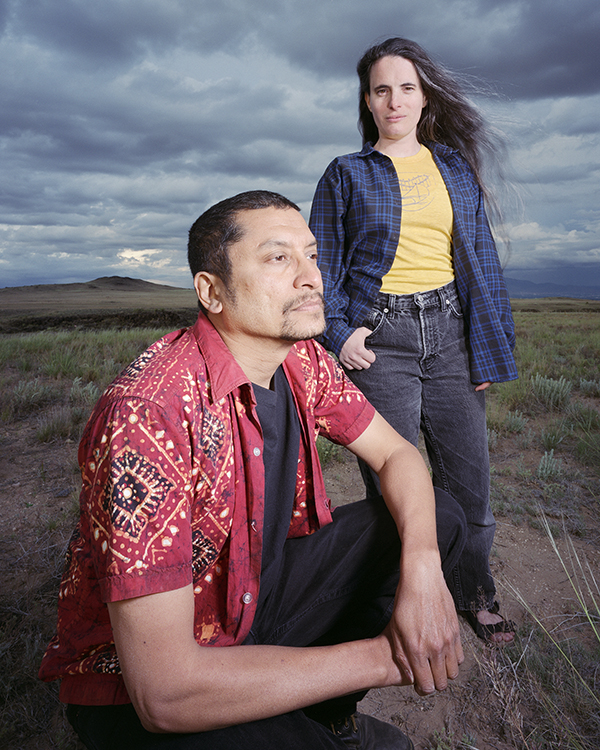 (photo: Daniel Peebles)
Smash and Teeny
Nilan Perera - prepared electric guitar & effects
Sarah Peebles - laptop & shō

with special guests
John Butcher - soprano and tenor saxophones
Chung Gong - calligraphy performance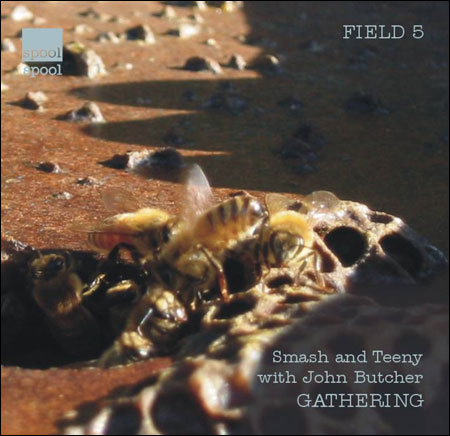 "Gem of a recording"
-BLG, Downtown Music Gallery, NYC
"A mesmersing double-disc retrospective...from well beyond the brink of comfort into strangely soothing corridors where double-locked doors unexpectedly open and lure the listener over foreboding thresholds."
-Exclaim!

"The duo mix tidal undulations of tone with the ability to pick out sharp flecks of texture in complex aural environments."
- The Wire
---




CD I. (Smash and Teeny, music)

1 looking glass 6:46

2 stridulation nation 10:22
Outpost Performance Space, May 12, 2001

3 salt phase results 10:15
The Tranzac Club, Toronto Fringe Jazz Festival, May 7, 2002

4 micromelody no. 1 1:12
Studio Excelo, February 2002

5 kite storm warning 8:42

6 ox tendon enigma 6:51

7 lacemaker's ruin 9:01
The Oasis, 416 Festival, June 26, 2002

8 micromelody no. 2 1:13
Studio Excelo, February 2002

9 table setting for snow 14:20
NOW Lounge, 416 Festival, June 16, 2001


CD II (music and video)

1 hummingbird midnight (music) 26:26

2 crunchy hands (music) 5:13
Smash and Teeny with John Butcher
Snake Ranch Studios, March 2, 2003

3.Kaladar Kodex (video) 10:40
Cinnamon Sphere, music and visuals
(Peebles, Perera and Chung Gong - calligraphy performance).
Gay and Paul's farm, Kaladar, Ontario, 1998/1999.
Enhanced CD: video (quick-time format, PC or Macintosh)
Watch online


Listen at CBC Music-Smash and Teeny (Peebles & Perera)

---
"Gathering" brings together the most exceptional music and video art works of the Toronto-based duo Smash and Teeny, created live in performance, in studio and at site-specific outdoor locations in Canada, the U.S. and England, between 2001-2003. In this double-CD debut of Smash and Teeny, which features special guest John Butcher, prepared electric guitar, manipulated natural and urban sounds, de-tuned shō and soprano and tenor saxophones conspire and collide, weaving impossibly beautiful improvised sonic landscapes. A stunning blend of saxophone science meets a universe of crafted sampled environments and ancient reed cries, all blended with guitar that has been lovingly altered to resemble massed percussion and string ensembles.
"Kaladar Kodex" (video) features the sonic inspired calligraphy of Chung Gong Ha set to an improvised musical score by Peebles and Perera, collectively known as "Cinnamon Sphere" mixed media trio. Juxtaposing real-time with the non-linear, "Kaladar Kodex" provides a layered psychological perspective of the act of spontaneous creation: two musicians and a calligrapher come together in a rural field where they explore their musical, artistic, physical and spiritual connection to the elements and to the historical farm surrounding them. Peebles reconstructs their performance and the myriad of views recorded by herself and Perera, with an eye towards the textures of plants, creatures and ink, musical gesture, and non-linear, experimental form. This is a tableau of improvisation in the moment - an autumn afternoon as the storm approaches beyond the barn.
Smash and Teeny expand the frontiers of improvisation and sound art through their innovative use of electroacoustics, prepared electric guitar, everyday widgets, and the sublime, illusive tones of the shō. One of "Canada's more original musical voices" (Eye Weekly), they create a musical expression rich in timbre, lyricism and subtlety. In his unusual approach to the guitar, Nilan Perera utilizes preparations of assorted paraphernalia such as swizzle sticks, paper clips, metal brushes and the like, as well as feedback and a variety of electronic effects. His explorations of sound infuse timbre, melodic gesture and cyclic contour with reminiscences of the blues, Hendrix, Partch, Sri Lankan folk music and beyond, drawing on his activities as avant-jazz guitarist, sound explorer and composer. Sarah Peebles integrates sounds she has gathered from natural habitats and cityscapes in North America and Japan into her improvisations. She gathers and alters her own sounds on the fly, which run the gamut from dust pans, modulated railway sounds and snow, to hummingbirds, ignited vapors and cicadas. She also draws upon the sustained tones of the shō, the Japanese mouth-organ noted for its unique timbre and tendency to 'throw' sound in unexpected ways.
London-based saxophonist John Butcher is a leading figure in free improvisation and internationally renowned as a master of multiphonics and as a manipulator of acoustic effects. Using the tenor saxophone as an extension of his own voice, Butcher has experimented with such techniques as growling and flutter tonguing to create effects that are reminiscent of speech, song, crying, whispers and laughter.
Perera and Peebles have worked together as the duo "Smash and Teeny" since 1991 and with the Toronto-based trio "Cinnamon Sphere" (with Chung Gong Ha, calligrapher) since 1995, performing and recording in Europe, Canada, the U.S. and Japan, and collaborating with such exceptional artists as David Toop, Jin Hi Kim, Evan Parker, John Butcher, Kō Ishikawa, Darren Copeland, Sumihisa Arima, and Tomomi Adachi. Venues have included the CCA (Glasgow), the ICA and BBC3 (London), Paradox (Netherlands), Music Gallery (Toronto), Kobe International Festival of Modern Music (Japan), The Outpost (New Mexico) and Société; des Arts Technologiques (SAT, Montréal).
"The music is startling, always absorbing. The mixing of environmental and electronic sound is really potent."
-Brent Clough, ABC Radio National
"Perera's interests in Sri Lankan folk music and Harry Partch nicely match Peebles' own eclecticism and revision of the primitive... Sounds seem to blossom effortlessly out of the electrified instruments and the Mac patches as if meditated into presence, but this is not insipid music.
There is a poise and tautness and silveriness to its glide that comes perhaps from the terseness of Japanese ritual music. But the temple is also bent into hallucinatory four dimensional shape, the clarity strung out in tones that wobble, drift, twang and scintillate."
-Matt ffytche, The Wire
Field is Spool's improvised sound art series.
| | |
| --- | --- |
| | photo: Daniel Peebles |
| | |

Home Page | Artist Biography | Recordings & Publications | Online Audio/Video
Projects & Performances | Reviews | Archives 2001-2011 | The Audible Woman

Contact the artist at sarahpeebles @ gmail.com